"I am committed to excellence, using only the latest technologies and scientific advancements in hair restoration to ensure outcomes that go beyond a patient's expectations." — Dr. Roberto Guerrero Zazueta
Are you interested in hair transplantation in Mexico? At eláen Plastic Surgery Center in Guadalajara, we provide a caring atmosphere that sets us apart from the rest of the world. Our team consists of passionate and experienced medical professionals, who are compassionate about helping you achieve your cosmetic goals and — always strive to meet each patient's needs.
The modern eláen Plastic Surgery Center attracts patients from around the world because of world-renowned hair transplant surgeon, Dr. Roberto Guerrero Zazueta. His remarkable and pioneering work in hair transplant surgery is met with both artistry and technical skill to achieve the most natural and dense results. With minimal recovery and with permanent results, Dr. Roberto provides state-of-the-art hair transplant procedures for the full gamut of those afflicted with hair loss.
Top Hair Transplant Clinic in Mexico
Inside the prestigious eláen hair transplant center in Guadalajara, our team has changed the way patients and the medical community think about hair transplantation. Beyond expertise in hair transplant surgery, eláen provides safe, customized, and compassionate care for every hair transplant patient.
At eláen, we not only perform hair transplant surgery for men and women — but Dr. Roberto also evaluates and treat patients with different causes of hair loss and scalp conditions....
Popular treatments
1 more treatments
Consultations available in:
English, Spanish
Additional Services
Local Accommodation Assistance, Translator Services, Flight Booking Assistance
Patient Reviews
My FUE hair implant treatments with Dr. Roberto Guerrero Zazueta have been absolutely incredible! In September of 2016, I made my first FUE hair implant with him for approximately 1,500 hair grafts. Yesterday, June 2019, almost 3 years later, I made a follow-up treatment to implant approximately 350 hair grafts. I feel very fortunate to have had the opportunity to do my surgery with Dr. Guerrero, and I'm delighted with the results! I came to learn about Dr. Guerrero, because before me two other family members and one friend had already made their hair implant treatment with Dr. Guerrero and had been very happy with the implant treatment and results. Since then, additional friends and family members have made different treatments with him. Dr. Roberto Guerrero: Is probably the nicest doctor I have ever meet, he treats his patients like friends, and goes above and beyond to answer questions and make his patients feel comfortable. I have accompanied other relatives to do different hair treatments with him. Dr. Guerrero was always very knowledgable and had the best interest for his patients. He speaks English and Spanish, so it is easy to communicate with him. The Staff: Dr. Guerrero's team is professional and courteous, and does everything with the utmost attention before, during, and after the treatment. Everyone in Dr. Guerrero's team always greets you with warmth and attention. The Clinic Location: The clinic is very well located in a very nice and upscale region of Guadalajara, it is within 4-7 walking minutes from Hyatt Hotel. I was able to rent an Airbnb apartment within 5 min walking from the clinic. The clinic and the Airbnb apartment was near Plaza Andares shopping mall complex, so every day while I was in Guadalajara I could go down to the mall and eat at its several restaurants, I also felt safe walking from the apartment to the mall, to the clinic, and around the area. Dr. Guerrero's clinic is located inside a healthcare clinic building. The Elaen Clinic: The Elaen clinic is very nice, quiet, organized, and clean. It doesn't give you that hospital feeling, instead, it gives you a sense of warmth and modern professionalism. Both my first hair treatment in Sept 2016, and the one I did now in June 2019, were both painless. Before doing my first treatment, I had concerns about how many implanted hairs would remain after my surgery, and how many would grow. Once the first operation was complete, I believe it took me about 1 year to see the full results of the implant, and I was extremely satisfied with the results. I was delighted to have done the treatment because, in the three years since the first hair implant, I can see that my original natural hairline continued to recede, and the original hair continued to get thinner. While the hairs which were implanted at the front of my scalp remained. I feel that if it wasn't for the hair implant, I would have completely lost my front hairline. I was thrilled with the results, so now in June 2019, I decided to go in for a second treatment to fill in spots were my original natural hair had naturally fallen. During the second FUE operation, Dr. Guerrero was as detailed oriented as ever, and a perfectionist in working to make the hair implants look natural. In conclusion: I highly recommend the FUE hair implant treatment with Dr. Guerrero, and I'm delighted with the results. If you are planning on coming from the USA or another country to Guadalajara for the procedure, I recommend a hotel or AirBnB within walking distance, or near and around the Plaza Andares shopping mall. All the best!
27-Jun-2019
Dr Roberto and his team were amazing. True professionals, incredibly informative, very kind and go out of there way to go above and beyond to help you. The entire process was effortless. Honesty, there is nothing bad I can say from any standpoint. I would comeback in a heartbeat.
23-Jan-2019
21 more reviews
Contact Clinic
SELECT A TREATMENT. GET A FREE QUOTE.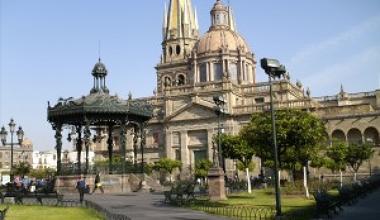 Mexico Travel Tips
Language: Spanish
Currency: Peso (MXN)
Climate: Average Daily Temp 75-82 F (24 to 28 °C)
Capital: Mexico City
Major Airport(s): Mexico City International Airport, General Abelardo L. Rodríguez International Airport
Electricity: 127V 60Hz
Time Zone: UTC −6/Summer UTC −8
What to See
The second-largest city in Mexico and Jalisco's state capital, Guadalajara is a vivacious city incorporating contemporary developments, colonial design, and rich cultural heritage. This graceful metropolis blends tree-lined avenues and gorgeous water fountains that capture Guadalajara's beauty — City of Roses, City of Fountains, Ciudad Real, and most famously, the Pearl of the West.
What to Savor
You will find cultural and artistic opportunities flourishing in downtown Guadalajara. Guadalajara offers opera, theater, and top shopping venues — plus world-class restaurants serving a delicious blend of pre-Hispanic and Spanish cuisine.
Where to Stay
Escape to modern comforts of Guadalajara. Each hotel destination offers a calming oasis where you can have a revitalizing stay. When planning your trip, ask for local area activities, travel assistance, and requests for restaurant recommendations.
Book a hotel in Guadalajara, Mexico