The plastic surgery clinic of Dr. Granado Tiagonce in Andorra La Vella is distinguished by the highest quality of personal service, commitment to safety and patient confidentiality, and superior results that encompass the entire body.
The clinic not only welcomes patients to the world of aesthetic medicine — and the latest treatments — but also personalized and affordable plastic surgery treatments.
The medical team comprises of several certified plastic and reconstructive surgeons, as well as one of Spain's top plastic surgeons — Dr. Granado Tiagonce. Dr. Tiagonce has a degree in Medicine and Surgery from the Autonomous University of Madrid and holds more than 25 years of experience.
Dr. Granado was recently recognized in Diari d'Andorra magazine. See the full article here (Diari d'Andorra Part 1 and Diari d'Andorra Part 2). Dr. Granado has also been featured in Nacional, please see the photo gallery.
Plastic Surgery in Andorra
The plastic surgery clinic of Dr. Granado Tiagonce offers:
Highly experienced, board certified plastic surgeons
Rigorously trained staff with impeccable credibility
Modern patient rooms
Advanced, safest technology available
Premier recovering , after-care program
...
Popular treatments
36 more treatments
Consultations available in:
English, Spanish, Ukranian, French, Russian
Additional Services
Airport Transfers, Flight Booking Assistance, Hotel to Clinic Transfers, Hotel Reservations, Local Accommodation Assistance, Recuperation Services, Translator Services
Accreditations
SECPRA (Spanish Society of Plastic, Reconstructive and Aesthetic Surgery, ASAPS (Amercian Society of Aesthetic Plastic Surgery), IPRAS (International Plastic Reconstructive and Aesthetic Surgery Society), FILACP (Ibero Latin American Federation of Plastic Surgery)
Patient Reviews
There is no doubt of going into this clinic.Everything went very well ,with very good hospitality and the most important part is the result of the surgery .It is amazing.I am truely happy with the result.ESpecial Thanks to Dr.Granado and all his members .I would give five stars for this clinic and for the team.
04-Dec-2018
Solo tengo palabras de agradecimiento, un 10 como profesional y un 11 como persona. El resultado espectacular, y la tranquilidad que te transmite tanto el dr. Granado como su equipo es inigualable.
10-Mar-2016
El Dr. Granado me operó hace 3 semanas de una reducción de mama y deseo manifestar su profesionalidad, trato con el paciente y calidad humana. No podia haver estado en mejores manos.
05-Mar-2016
16 more reviews
Contact Clinic
SELECT A TREATMENT. GET A FREE QUOTE.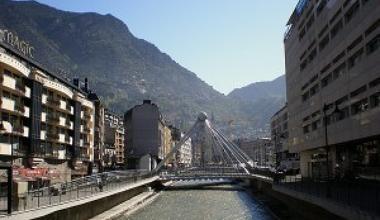 Andorra Travel Tips
Language: Catalan
Currency: Euro
Climate: Mountain
Capital: Andorra la Vella
Major Airport(s):
Electricity: 230 volts, 50Hz
Time Zone: GMT +1 (GMT +2, Apr - Oct)
What to See
Andorra is a destination on the rise. Offering the best skiing in the Pyrenees, Andorra La Vella is the rush you've been waiting for. Do you ski? Eager to learn? Andorra has added new chairlifts, impressive mountainside restaurants and snow-making machines inspiring enthusiasts of all ages. With over 2000 shops, and duty free prices, Andorra is also a prevalent spot for shopping. With just three roads in the state, the most impressive and dramatic scenery can be seen in all of the Pyrenees.
What to Savor
Andorra's food is typically Catalan, and embraces French and Italian essences. Meat, in the form of lamb, game, pork, fish and poultry, is the most essential part of cooking. Try an Andorra specialty: trinxat (bacon cooked with potatoes and cabbage), escudella (a chicken stew with sausages and meatballs) and cunillo (rabbit cooked in a tomato sauce).
Where to Stay
Andorra is full of budget hotels, famed ski resorts and amazing views. The costs are extremely affordable and offer elite services. Andorra La Vella, Escalades-Engordany, and Soldeu are the most popular tourists places of Andorra where you will find plenty of luxury to meet your every desire. Try out the Andorra Park Hotel in Andorra La Vella.
Book a hotel in Andorra La Vella, Andorra