ALO Bariatrics offers affordable, trustworthy weight loss services in Guadalajara, México through a network of world-class healthcare professionals and hospitals. We represent surgeons with a combined experience of 20+ years.
As part of the ALO Bariatrics network, we provide leading-edge patient care by Mexico's most acclaimed physicians and offer the latest options for the morbidly obese. Because obesity often leads to health risks including high blood pressure, cardiovascular disease, diabetes and stroke, our world-class team in Mexico specializes in leading-edge weight loss procedures.
ALO Bariatric surgeons perform several types of bariatric procedures, including gastric sleeve and gastric bypass, duodenal switch, and revision weight loss surgery — using the advanced single incision laparoscopic surgical technique. In addition to these treatments, our team works diligently to address psychological concerns, diet and fitness, and recovery plans.
Why Choose ALO Bariatrics in Mexico
Bariatric surgery is deemed a highly effective treatment for long-term control of obesity. If you have been unable to lose weight from diet and exercise alone, bariatric surgery in Mexico can get you on the right track to a healthier life. The ALO Bariatrics program is anchored by our team's long-standing reputation for quality and compassionate healthcare....
Popular treatments
4 more treatments
Consultations available in:
English, Spanish
Additional Services
Local Accommodation Assistance, Flight Booking Assistance, Nutrition Counseling, Translator Services
Accreditations
American Society of Metabolic & Bariatric Surgery, Mexican Board of Surgery (CMCG), Mexican Association of Surgery (AMCG), IFSO Certified
Contact Clinic
SELECT A TREATMENT. GET A FREE QUOTE.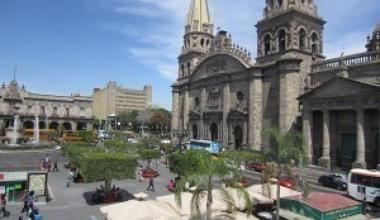 Mexico Travel Tips
Language: Spanish
Currency: Peso (MXN)
Climate: Average Daily Temp 75-82 F (24 to 28 °C)
Capital: Mexico City
Major Airport(s): Mexico City International Airport, General Abelardo L. Rodríguez International Airport
Electricity: 127V 60Hz
Time Zone: UTC −6/Summer UTC −8
What to See
Guadalajara is Mexico's second biggest city, and the tantalizing birthplace of mariachi music and tequila. Take an easy stroll Guadalajara and admire the green spaces and public art in the city's many parks and plazas. Ready for more? At the heart of Guadalajara is the cathedral. With its twin pointed towers and central dome, it is the most recognizable landmark on the Guadalajara skyline.
What to Savor
After working up an appetite exploring the city, you will find many upbeat restaurants serving up the finest Mexican cuisine. What are Guadalajara's culinary specialties? Ask for Tortas ahogadas, the signature dish of Guadalajara — covered sandwiches made with a dense roll stuffed with pork and drenched in spicy salsa. Or satisfy you hunger with a filling bowl of pozole, corn hominy soup made with either pork or chicken.
Where to Stay
If anything distinguishes luxury tourism, it is the attention to detail that Guadalajara offers. Pamper yourself today! Mexico allows you the opportunity to unwind and recover in one of many affordable and modern hotels.
Book a hotel in Guadalajara, Mexico