Led by a highly-qualified team of dental surgeons, Shiny White Dental Centers, is the leading dental clinic in Egypt. Shiny White Dental Center is the largest pioneering dental chain in Egypt — with 4 branch locations in Cairo (Nasr City, Maadi, 5th Settlement, and Zaid).
We are known for our unparalleled dental expertise, excellent patient care services and state-of-the art facilities. Our expert dental team specializes in full mouth rehab cases and dental implants.
When oral care is not properly maintained, bacteria can infect the teeth and gums, causing gum disease or cavities. For this very reason, we aim to be a world-class dental provider in Egypt and we go above and beyond to provide our patients with the best and most affordable dental care. As a leader in cosmetic dentistry in Egypt, we hold ourselves to the hightest standards. Our clinic infrastructure is digital, leaving no room for error and providing patients with the best care possible.
Our team offers a wide variety of services including dental implants, cosmetic dentistry, periodontal treatments, dental crowns and pediatric dentistry.
Dental Treatment Diagnosis
Examination and analysis of the mouth using special clinical skills and 3d CbCT radiograph for visual three-dimensional demonstration and case presentation of your teeth.
Dental Implants in Egypt
Dental Implants is the best treatment methods for replacing missing teeth and Oral and Maxillofacial rehabilitation....
Popular treatments
16 more treatments
Consultations available in:
English, Arabic
Additional Services
Flight Booking Assistance, Local Accommodation Assistance, Translator Services
Contact Clinic
SELECT A TREATMENT. GET A FREE QUOTE.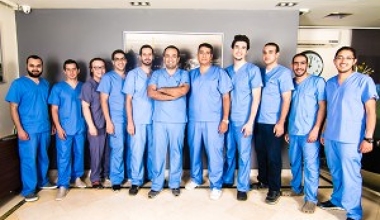 Egypt Travel Tips
Language: Arabic
Currency: Egyptian pound
Climate: (December to February) 13 to 19 °C. (May to August) 45 to 47 °C.
Capital: Cairo
Major Airport(s): Cairo International Airport (CAI)
Electricity: 220 volts (non-US Plug)
Time Zone: UTC +2
What to See
Being the largest metropolis in the Arab World, Cairo attracts countless numbers of tourists, students and ex-pats every year. No trip to Cairo is complete without a stop at one of the many pyramids that are found scattered across the Egyptian desert. Must-visit pyramids include the Pyramid of Khafre, Pyramid of Khufu, Queens Pyramids of Giza and the Pyramid of Menhaure. In addition to the pyramids, you will want to make time to visit the Sphinx of Giza. At night, make your way to the Kasr El Nil Bridge, which offers a breathtaking panoramic view of the city's skyline
What to Savor
Cairo's dining scene reflects the people who frequent the city's streets and sights. While many restaurants are influenced by Cairo's geographic location, there are also a variety of internationally inspired eateries for tourists. Many foods available in Cairo are available throughout most of the Middle East. Foods such as tahini, falafel and baba ghanoush are popular dishes to try when experiencing the local cuisine. Do not forget to try kushari, a dish made with lentils, rice and macaroni noodles.
Where to Stay
Relax and unwind. Top hotels include: Cairo Marriott Hotel & Omar Khayyam Casino Conrad Cairo Fairmont Towers
Book a hotel in Cairo, Egypt