Dr. Omar Kharrat Dental Clinic is the premier dental center in Qatar. Our dentists are highly trained, experienced and leaders in all procedures. We fully guarantee all of our dental treatment. Our office has a relaxing, friendly atmosphere where our dental specialists treat you with the care and concern — they would their own family. We listen to you, explain procedures, consult with you and keep you informed every step of the way.
"Personal care and communication with our patients is of utmost importance to us." — Dr. Omar Kharrat
What sets us apart from other Middle Eastern dental clinics?
Dr. Omar Kharrat Dental Goals
To help achieve the highest level of well-being that is personally appropriate
To continually strive for excellence in our personal and professional service
To accomplish this with the highest degree of care, kindness and comfort, thus enhancing the quality of people's lives and our own.
To foster an environment that is conducive to the above.
...
Popular treatments
17 more treatments
Consultations available in:
English, Arabic
Additional Services
Flight Booking Assistance, Local Accommodation Assistance, Translator Services
Contact Clinic
SELECT A TREATMENT. GET A FREE QUOTE.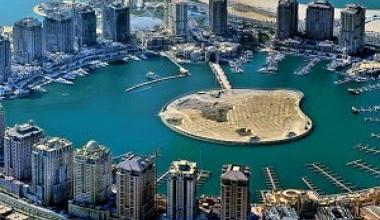 Qatar Travel Tips
Language: Arabic
Currency: Qatari Riyal (QAR)
Climate: Hot and dry
Capital: Doha
Major Airport(s): Doha International Airport
Electricity: 240v/50hz
Time Zone: AST Arabia Standard
What to See
While you visit Qatar, tourists can explore the natural environment of Qatar by taking an exciting desert safari, relaxing at the many beaches and pools or just enjoying their favourite sport, be it bowling alleys, tennis, snookers, billiards, golf courses, or ice skating rinks. There is something for everyone in this wonderful place. Doha, the capital of Quatar is located halfway down the east coast of peninsula. For the golf enthusiasts, there is the Doha Golf Club at the World Championship Golf Course, designed by Peter Harradine.
What to Savor
When it comes to food, the options in Qatar are endless. Given, the population diversity in Qatar, a large variety of different cuisines are available including Thai, Indian, Chinese, Italian, Korean, European, and more. Majority of fast food chains are also represented here, and they even offer an Arabic twist to their menu. The top hotels in the city and the Pearl-Qatar offer fine dining experiences and the popular brunch.
Where to Stay
Whether your trip is business or leisure, the myriad of local attractions will indulge you for the duration of your stay. Discover the fabled warmth of Arabian hospitality in the outstanding hotels that beautifully blend modern and traditional.
Book a hotel in Ad Dawhah, Qatar