Hair Transplant Surgery Tunisia
It takes compassion, commitment and expertise to build a world-class hair transplant practice. Case in point: Dr. Hedi Belajouza is re-defining hair restoration treatment by offering artistic skills, state-of-the-art technology and a highly skilled professional team backing him up.
Each patient's hair transplant procedure in Tunisia is customized — based on general health, hair type, degree of hair loss and overall appearance goals.
Expert Hair Transplant Surgeon in Tunisia
Dr. Belajouza believes in the importance of establishing a trusting relationship with his patients to ensure successful and satisfactory results. He is recognized for his artistic brilliance, stunning natural results and minimally invasive hair transplant techniques. His hair transplant practice is based in Tunisia's liveliest and most breathtaking cities — Sousse.
What distinguishes Dr. Belajouza from the rest of elite hair transplant surgeons in Tunisia? His his full-involvement with patients throughout the entire hair restoration treatment. While many hair transplant doctors only take part in the donor harvesting and site creations, Dr. Belajouza employs his superior level of expertise in separation and placement of grafts during hair replacement procedure.
His dedicated practice is devoted to the art and science of hair transplantation. The entire staff is attentive, understanding and exceedingly sensitive to patients' needs and has extensively trained and continually participates in the latest developments in the field of cosmetic hair restoration. As a combined effort, the team and Dr. Belajouza have achieved many successful hair transplant procedures.
...
Popular treatments
2 more treatments
Consultations available in:
Arabic, English, French
Additional Services
Airport Transfers, Translator Services
Patient Reviews
J'ai eu la chance de me faire opérer chez Docteur Belajouza Hedi le 2 et 3 aout 2020. C'était ma deuxieme greffe de cheveux. J'ai effectué la première en décembre 2018 chez Docteur Bisonga à Bruxelles . Je suis super satisfait de ma première opération seulement ce n'était pas assez pour couvrir toute la zone et une deuxième opération était nécessaire. Entre-temps mon frère s'est fait opéré chez Docteur Belajouza à Sousse et son opération était un succès. Vu que cette opération est très couteuse en Belgique j'ai décidé de faire ma deuxième opération chez Dr Belajouza et aujourd'hui après 5 mois je vois déjà le résultat qui va encore s'améliorer les 7 prochains mois et j'en suis déjà très satisfait à ce stade. L'acceuil et le contact humain avec toute l'équipe était super. J'ai ressenti moins de douleur par rapport à ma première opération et le docteur était serein et à l'aise ce qui m'a reconforté tout au long de l'opération. Merci Docteur et bonne continuation. Un petit message pour tous les hommes qui souffrent de calvitie en silence, passez le cap car il y a de nos jours une solution qui marche qui est la greffe FUE. Si votre zone donneuse de cheveux est assez dense, vous pouvez faire l'opération et ca marchera surement surtout si vous vous faites opérer par un bon chirurgien expérimenté et si vous suivez les recommendations post-opératoires.
13-Jan-2021
كانت لي تجربة رائعة لاني اول مرة اعمل عملية تجميل وبصراحة انا مسروووورة جدا بالنتيجة وبأسلوب الدكتور مع مرضاه والله نعمة الدكتور وانا فخورة جدا اني عملت العملية على ايديه شكراا دكتور وباذن الله بعد 5اشهر حا اعمل عملية ثانية لاني ارتحت وفرحت بالنتيجة فبارك الله فيك دكتور وشكرااا جزيلا على كل شيء ماشاء الله أفضل دكتور وخاصة خبرتك بصراحة نعمة الدكتور
05-Feb-2020
J'ai été opéré par le Docteur Hédi Belajouza le 08 et 09 novembre 2018 , Et je confirme que c'est un excellent praticien, très professionnel, vraiment proche et a l'écoute de ses patients et surtout très accueillant . IL prend le temps d'expliquer et de répondre a toutes les questions. Le jour de l'opération le docteur et son équipe mon vraiment mis dans les meilleures conditions, pour que ma greffe se passe de la meilleure des façons. Je ne regrette absolument pas de m'être fait greffé par cet excellent Docteur et je le remercie lui, ainsi que toutes son équipe, pour les bons moments passé en leurs compagnies.
14-Nov-2018
5 more reviews
Contact Clinic
SELECT A TREATMENT. GET A FREE QUOTE.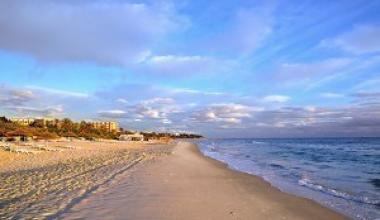 Tunisia Travel Tips
Language: Arabic
Currency: Tunisian Dinar (TND)
Climate: Mild rainy winters/ Hot, dry summers
Capital: Tunis
Major Airport(s): Tunis-Carthage International Airport (TUN), Habib Bourguiba, Skanes-Monastir (MIR)
Electricity: 127-220V 50Hz (European Plug)
Time Zone: UTC +1
What to See
Souk Quarter is located to the south of the Ribat in Sousse, which runs past the Great Mosque to the west side of the Medina. The beginning of the large souk quarter, partly roofed over, marks a scene of busy and bustling activity with all the atmosphere of the orient.
What to Savor
Looking for a fancy place to dine? Le Guepard restaurant in Sousse is an ideal place to enjoy a sumptuous meal in plush setting. The restaurant is famous for its extensive wine list and international cuisine.
Where to Stay
Iberostar Diar El Andalous is located in the charming town of Sousse, an all-inclusive Port El Kantaoui hotel, hugged by verdant gardens and right on the beach. The hotel offers an impeccable service and has a variety of entertainment options for the entire family, making it an ideal choice for an unforgettable vacation in Tunisia.
Book a hotel in Sousse, Tunisia