Welcome to the Fertility Center in Yerevan! Your Miracle... Our Mission.
The top Fertility Center in Yerevan is committed to offering affordable and successful treatment to women and men in all stages of infertility. Having extensive working experience in many European countries and Northern America, our team is more than happy to welcome anyone with infertility problems who wishes to receive suitable treatment in Armenia. We provide the highest standard of care, advanced treatment and advice not only for patients from Armenia, but also from Russia, France, Germany and USA. Our goal is to achieve the best prospects for a successful pregnancy.
Our multilingual and caring staff helps patients from more than 30 countries around the globe in creating miracles each and every day. With the number of successful pregnancies in 2017 we are the leading Center of Reproductive Medicine in Armenia with later holding the third place among European countries with IVF Success Rate. Fertility Center Yerevan is the only clinic in Armenia who has been awarded by the European ISO Trust Certificate. Our nationally recognized Fertility Specialists have an extensive professional working experience in the U.S., Russia & Europe
We do not promise what is impossible, we do all that is possible.
Why Choose IVF in Armenia?
The Team
Our Reproductive Endocrinologists and Infertility specialists are national leaders in reproductive science and are some of the most accomplished and respected doctors in the infertility field. The founder of the center, Dr....
Popular treatments
12 more treatments
Consultations available in:
English, Russian
Additional Services
Local Accommodation Assistance, Flight Booking Assistance, Translator Services
Contact Clinic
SELECT A TREATMENT. GET A FREE QUOTE.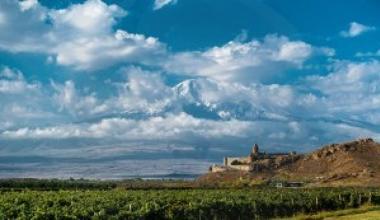 Armenia Travel Tips
Language: Armenian
Currency: Dram (AMD)
Climate: Average Temp Summer 77 F (25° C) Winter 32F (0° C)
Capital: Yerevan
Major Airport(s): Zvartnots International Airport
Electricity: 220 volts, 50 Hz (Round Two-Pin)
Time Zone: UTC +4
What to See
The fascinating capital of Yerevan is inimitably positioned at the crossroads between Asian and European civilization. Armenia has seen a confident increase in tourists and genuine economic growth. Outside the capital, tourists can explore exhilarating cliff-top villages overseeing the astounding foothills of the Haraz Mountains. Discover Sana'a's Souk al Milh — one of the country's best places for shopping.
What to Savor
Yerevan is famous for its khorovats (grills) — with mounds of smoke rising over the. Explore the famed Paronyan Poghots (Barbecue Street) for the most celebrated local barbecue. Tourists will find a collection of restaurants serving up hearty traditional Armenian dishes and offering live music.
Where to Stay
Accommodation in Yemen varies from simple village guesthouses, traditional hotels, and the renowned Sultans' palaces with five star luxury. If you want to explore outside the capital, Ta'iz, Seiyun, Wadi Do'an, Al Mukalla and Al Hudaydah all have an extensive collection of luxury housings.
Book a hotel in Yerevan, Armenia