Reach your dreams of parenthood with EuroCARE!
Fertility treatment is an intensive process that requires sensitivity and an understanding of the physical and emotional aspects of every patient's journey. Led by experienced fertility specialists, EuroCARE IVF is an all-encompassing IVF center located in the Turkish Republic of Northern Cyprus.
From the moment we opened our doors, our mission is to offer you high success rates and affordable treatments. We have launched several treatment packages as a bundle of medical expertise, 24/7 IVF cycle support, accommodation, relaxing environment and state-of-the-art laboratories.
In addition to EuroCARE's pioneering in vitro fertilization (IVF) program, we provide egg and sperm donation, embryo donation, tandem IVF cycles, and PGS for family balancing preferences. In addition, we offer cycle upgrades to maximize your success, including assisted hatching, embryo glue and cryopreservation.
Your family is the center of our practice and we do our best to help you build the family you want. Our entire team strives to make the process of fertility investigation and treatment a positive and successful experience. We are proud of our family-like atmosphere and a strong commitment to medical excellence and patient education.
WHY SHOULD YOU CHOOSE EuroCARE AS YOUR IVF DESTINATION?
EuroCARE IVF in Nicosia provides:
Popular treatments
22 more treatments
Consultations available in:
Turkish, English, German, Arabic, French,
Additional Services
Airport Transfers, Hotel Reservations, Flight Booking Assistance, Local Accommodation Assistance, Translator Services
Patient Reviews
What can I say. We have been through so much as a family. 5 rounds of IVF before finally falling pregnant naturally. Now we are trying to add to our family as we worry about our daughter being alone. euroCARE IVF have been brilliant. Lyndsay has been a huge support over many long frustrating months of Covid 19. They really listen to the history, to your concerns and treat you as an individual. There is no pressure to go ahead at any stage. All travel was taken care of, we were picked up at the airport, hotels were organised and visits to clinic were in the clinic taxi. On arrival we were able to discuss our concerns about the sperm quality. It wasn't until the day before egg collection we decided to add donor sperm for a quarter of the eggs. It was no issue. We used a microchip for my husbands sperm. The outcome was incredible. In 5 rounds of IVF we have only ever achieved one transfer of a poor quality embryo and never had anything to freeze. Whats more - we had good results not only from the donor sperm but my husbands too. We have 8 frozen embryos. I don't yet know the outcome of the cycle, and for me it doesn't matter. You can only help biology so much. What has mattered to me, is being treated as an individual, the care and attention, the flexibility. It's a big step to go abroad but I whole heartedly recommend you do. You will also enjoy North Cyprus. A lovely place to be. Good luck in your journeys. Laura and family
17-Nov-2021
After undergoing multiple IVF treatments in the UK and spending thousands of £'s. My husband and I decided to go to Cyprus for treatment. As soon as I made contact with Lyndsay (who is amazing) I knew I was set on EuroCare as our clinic of choice. Lyndsay was extremely supportive, organised everything for us, communicated through email and explained all procedures and travel arrangements etc with us. Once we arrived in Cyprus, the clinic is very relaxed and staff could not be more friendly. Lyndsay was always on hand with anything we needed. We finally are pregnant and were thrilled with the whole process in Cyprus. I felt so much more relaxed in the hands of Eurocare compared to London hospitals where I had been previous which were like conveyer belts! This was so different. I am now 6 months pregnant and all is going well. I am hoping for possibly a second child one day in the future and I shall be back on a plane to see Lyndsay and the team for sure.
02-Nov-2021
الاخوة الاعزاء بصحة يوركير توصلنا معكم عن طريق النت عن طريق الانسه ساره وكانت تجربه احسن مما تخيلنا من حيت دقه التفاصيل فى المعلومات دقه العمل الرائع وتسهيل امورنا وتسهيل دخولنا الى قبرص بكل اريحيه وسلاسه وكانت الانسه ساره معنا خطوه بخطوه فالشكر لها ولحسن معاملتها فعلا كانت انسانه مريحه فى المعامله مما زاد شوقنا لخضوع هذه التجربه التى اتمنى من الله ان تتم بخير كما نشكر طاقم الصحه من الرسبشن الى الدكتور Dr Yucel Inan الرائع وكل من فى المصحه لكم كل الشكر والتقدير والى عزيزتى ساره التى لها الفضل لوجودنا هنا فلكم كل الشكر والتقدير من الزوجين
29-Sep-2021
69 more reviews
Contact Clinic
SELECT A TREATMENT. GET A FREE QUOTE.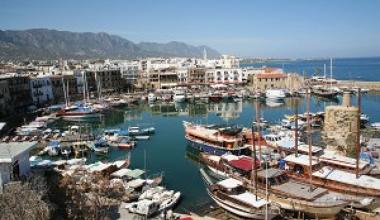 Cyprus Travel Tips
Language: Greek, Turkish
Currency: TRY (Turkish Lira)
Climate: Average Temp 86 F (30° C)
Capital: Nicosia
Major Airport(s): Larnaca International Airport (LCA), Ercan Airport (ECN)
Electricity: 240V/50Hz (UK plug)
Time Zone: UTC +2
What to See
Traveling to North Cyprus gives you access to — relaxing moments on astonishing golden beaches, thrilling watersports adventures, and tours of the beautiful countryside in the Karpaz Peninsula, glorious mountains covered in shady pines forests, or exploration on foot of the historic castles.
What to Savor
Wining and dining doesn't really get any more perfect than it does at the Kyrenia harbourside. You get a real feel of the culture and history of the island at the harbour area, which was the brainchild of the ancient Venetian settlers.
Where to Stay
During your IVF treatment in North Cyprus it is important that you feel relaxed and comfortable. Therefore, we have partnered with the best hotels in the region to give our patients the best value and comfort possible. Our team is available to help you find the most suitable accomodations for you.
Book a hotel in Nicosia, Cyprus