Reach your dreams of parenthood with EuroCARE!
Fertility treatment is an intensive process that requires sensitivity and an understanding of the physical and emotional aspects of every patient's journey. Led by experienced fertility specialists, EuroCARE IVF is an all-encompassing IVF center located in the Turkish Republic of Northern Cyprus.
From the moment we opened our doors, our mission is to offer you high success rates and affordable treatments. We have launched several treatment packages as a bundle of medical expertise, 24/7 IVF cycle support, accommodation, relaxing environment and state-of-the-art laboratories.
In addition to EuroCARE's pioneering in vitro fertilization (IVF) program, we provide egg and sperm donation, embryo donation, tandem IVF cycles, and PGS for family balancing preferences. In addition, we offer cycle upgrades to maximize your success, including assisted hatching, embryo glue and cryopreservation.
Your family is the center of our practice and we do our best to help you build the family you want. Our entire team strives to make the process of fertility investigation and treatment a positive and successful experience. We are proud of our family-like atmosphere and a strong commitment to medical excellence and patient education.
WHY SHOULD YOU CHOOSE EuroCARE AS YOUR IVF DESTINATION?
EuroCARE IVF in Nicosia provides:
Popular treatments
22 more treatments
Consultations available in:
Turkish, English, German, Arabic, French,
Additional Services
Airport Transfers, Hotel Reservations, Flight Booking Assistance, Local Accommodation Assistance, Translator Services
Patient Reviews
We are a married couple with 3 boys. We desperately wanted a girl as well... so I've tried to find a solution. I've found many North Cyprus IVF clinic which proposed gender selection method to couples like us. I've contacted many of them but finally, I've chosen Eurocare IVF. First of all, because our patient coordinator (Sherry) was a true gift: she let us know everything since our first email-change. She was always available and answered all our question so I made confiance for her. I've read a lot of review about the clinic which were positives. And finally, they had a special promotion regarding the price of the treatment - and let be honest, it's something which is really matter at these level of prices. So we've chosed them and we are really satisfied with our choice - they were professional, the clinic is beautiful, clean, modern. We've made preliminary tests in our home country (it was our charge), but only the bare minimum. Every tests we needed later, we can do at Eurocare (blood test, scans, even PCR test!) I started the medical treatment at home and I was monitored by a doctor in my home country. Than we went to North Cyprus on the 8th day of my cycle... and we've waited for 6 days for the egg and sperm collection. During this time, we were accompanied by Sherry and the medical team. We couldn't ask anything which they cannot find a solution. We were always picked up by taxi and carried to the clinic. The doctor and staff were professionals, the treatment was personalized. We've managed to collect 20 follicules, 14 of them started to grow after fertilization and 5 of them were good enough to freeze (we've chosen to freeze them for the moment). 3 of them are girls, 2 are boys. I am really grateful for all the staff to their efforts and I am waiting for the time when we can do the transit of the embryos as well.
24-Aug-2021
كانت تجربة ناجحة والحمدلله الان حامل في تؤام بالشهر السادس اتوفقت بمساعدة الفريق الطبي والتعامل الراقي وخصوصا الاخت سارا التي ساعدتني في كل شيء احتجت اليه هناك من سكن وسهلت علينا لغة التفاهم و Dr Yucel Inan وبقية الطاقم العامل بمصحة يوروكير شكرا جزيلا على تعاونكم معنا وبأذن الله سنكرر التجربة شكرا يوروكير لدعمكم فأنتم محل ثقة
19-Aug-2021
66 more reviews
Contact Clinic
SELECT A TREATMENT. GET A FREE QUOTE.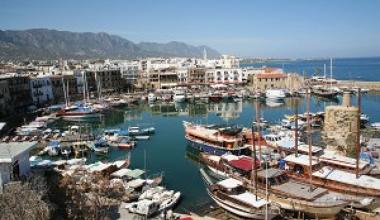 Cyprus Travel Tips
Language: Greek, Turkish
Currency: TRY (Turkish Lira)
Climate: Average Temp 86 F (30° C)
Capital: Nicosia
Major Airport(s): Larnaca International Airport (LCA), Ercan Airport (ECN)
Electricity: 240V/50Hz (UK plug)
Time Zone: UTC +2
What to See
Traveling to North Cyprus gives you access to — relaxing moments on astonishing golden beaches, thrilling watersports adventures, and tours of the beautiful countryside in the Karpaz Peninsula, glorious mountains covered in shady pines forests, or exploration on foot of the historic castles.
What to Savor
Wining and dining doesn't really get any more perfect than it does at the Kyrenia harbourside. You get a real feel of the culture and history of the island at the harbour area, which was the brainchild of the ancient Venetian settlers.
Where to Stay
During your IVF treatment in North Cyprus it is important that you feel relaxed and comfortable. Therefore, we have partnered with the best hotels in the region to give our patients the best value and comfort possible. Our team is available to help you find the most suitable accomodations for you.
Book a hotel in Nicosia, Cyprus