Call Us
North Cyprus: +90 533 885 4222
UK Patients: +44 203 389 7633
Landline: +90 392 225 8410
E-mail Us: [email protected]
Reach Your Dreams of Parenthood with euroCARE.
Fertility treatment is an intensive process that requires sensitivity and an understanding of the physical and emotional aspects of every patient's journey. Led by expert fertility specialists, euroCARE IVF is an all-encompassing IVF center located in the Turkish Republic of Northern Cyprus. In addition to euroCARE's pioneering in vitro fertilization (IVF) program, the center provides egg and sperm donation, embryo donation, tandem IVF cycles, and PGS for family balancing preferences.
Our lead fertility specialists strive to make the process of fertility investigation and treatment a positive experience. We are proud of our family-like atmosphere and strong commitment to patient education.
EUROPE'S LEADING IVF CLINIC
euroCARE IVF in Nicosia provides:
No Waiting List. Schedule treatment when it's best suitable for you.
World-Class Facility. Modern hospital boasting state-of-the-art equipment.
Competitive Prices. Exceptional services and costs that are reasonable.
Exquisite Locale. Situated in the scenic town of Nicosia. Relax. Unwind.
Expert Team. Dedicated to providing the best care to achieve a positive result.
Popular treatments
22 more treatments
Consultations available in:
Turkish, English, German, Arabic, French,
Additional Services
Airport Transfers, Hotel Reservations, Flight Booking Assistance, Local Accommodation Assistance, Translator Services
Patient Reviews
I had been in touch with Lyndsay for a while and she was very understanding about our situation when we had to postponed the treatment and was never pushy. We got a discount which was nice and medications were ordered from Turkey. We had great advantage of staying in Oscar resort as we were picked up and dropped off. This took the pressure off us and we were able to have a lovely holiday in Cyprus too.. embryo transfer was explained and Lyndsay was always there for us no matter what time. The staff were lovely and everything was explained so well I didn't stress at all about anything through out the whole process. My pregnancy was lovely I enjoyed being pregnant..IVF was the best thing for us and now we are blessed with twins. You are able to do everything you would do if conceived naturally eg breastfeeding. Thank you so much and we will bring the twins to see you all.
15-Oct-2020
Liebe Yasmin, vielen Dank für die tolle Betreuung vor, während und nach unserem Aufenthalt auf Nordzypern. Beim ersten Versuch mit Eizellspende hat es direkt mit Zwillingen geklappt und wir sind sehr glücklich darüber. Ihr bemüht euch und gebt alles um zufriedene und erfolgreiche Patienten zu haben, und das ist etwas, das ich seit über 5 Jahren unserer Kinderwunschbiographie nicht so kennengelernt habe. In Deutschland fühlte ich mich bei 4 Kliniken nicht zu 💯 Prozent erfolgsorientiert behandelt; in Tschechien vermittelte man mir, dass ich keine Eizellen bei Punktion in Prag hatte (war aber gelogen),; in der Türkei sagte man mir vor Ort, dass ich nicht komplett behandelt werden kann, da ich nicht verheiratet bin... Nach so vielen Niederlagen wart ihr das Team, das uns bestmöglichst beraten und behandelt hat-mit Erfolg. Vielen Dank für alles! Es fehlt nur noch das von uns gewünschte dritte Kind und deswegen sehen wir uns bald wieder🤗 Alles Liebe, Efa und Familie
08-Oct-2020
In the past i tried this treatment and had a bad experience and failure however i found this place and communication with Sherry Selengul was very good and fast. She was caring and answered all my questions 24/7 and was honest. Im very happy and would recommend
04-Sep-2020
56 more reviews
Contact Clinic
SELECT A TREATMENT. GET A FREE QUOTE.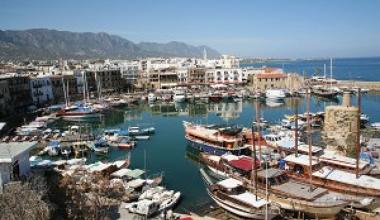 Cyprus Travel Tips
Language: Greek, Turkish
Currency: TRY (Turkish Lira)
Climate: Average Temp 86 F (30° C)
Capital: Nicosia
Major Airport(s): Larnaca International Airport (LCA), Ercan Airport (ECN)
Electricity: 240V/50Hz (UK plug)
Time Zone: UTC +2
What to See
Traveling to North Cyprus gives you access to — relaxing moments on astonishing golden beaches, thrilling watersports adventures, and tours of the beautiful countryside in the Karpaz Peninsula, glorious mountains covered in shady pines forests, or exploration on foot of the historic castles.
What to Savor
Wining and dining doesn't really get any more perfect than it does at the Kyrenia harbourside. You get a real feel of the culture and history of the island at the harbour area, which was the brainchild of the ancient Venetian settlers.
Where to Stay
During your IVF treatment in North Cyprus it is important that you feel relaxed and comfortable. Therefore, we have partnered with the best hotels in the region to give our patients the best value and comfort possible. Our team is available to help you find the most suitable accomodations for you.
Book a hotel in Nicosia, Cyprus