The world's most exclusive growing surrogacy network just got more enviable. Located at the crossroads of Western Asia and Eastern Europe, atlasCARE IVF in Georgia is renowned for its beloved presence of unspoiled support and affordability. Providing an extensive range of fertility treatments and surrogacy options, the leading IVF clinic in Batumi strives to provide all-inclusive and professional fertility care to all patients.
"Our leading measure of success is the birth of the healthy babies born at atlasCARE." — Dr. Sophia Khardzeishvili
Drawing from their collective clinical experience of over 15 years, the atlasCARE IVF team tailors personal treatment plans — specifically for you. Medical Director, Evren Armutcu, and Lead Fertility Specialist, Dr. Sophia Khardzeishvili, work closely to ensure that the latest clinical protocols, techniques, and procedures are offered to patients at atlasCARE. The expert IVF team provides not only fertility expertise to help patients reach their dreams of parenthood — but also compassion, support and professional care.
Why Choose atlasCARE in Georgia?
Led by expert fertility doctors, embryologists, nurses, and lab technicians, the atlasCARE team in Batumi first identifies the cause for infertility — and then develops a personalized treatment plan based on those specific findings....
Popular treatments
14 more treatments
Consultations available in:
English, Arabic, French
Additional Services
Airport Transfers, Local Accommodation Assistance, Hotel to Clinic Transfers, Flight Booking Assistance, Translator Services, Hotel Reservations
Patient Reviews
We have been very lucky to choose atlasCARE from the begnning. CARE is what atlasCARE holds for. From the dinner we had together with doctor and the team, to every email we exchanged through the whole process, atlasCARE has been truly caring and sincere. We would like to particularly express our deep thanks to Amy. Whenever we need you, you are always there, answering quesions, offfering advice and support. Dr Everen is the best, We love atlasCARE, We love Georgia, for sure we will come back to visit this beautiful country:)
19-Feb-2019
Hey Evren, My wife and I are now in Tbilisi since last Saturday. Kids are keeping us busy here daily. : ) Will do the DNA test on this coming Wednesday. Hopefully everything will go smoothly. Want to personally thank you for your help in all ways, especially Amy, Tamila, you, and all supporting team from Atlas Care.
13-Sep-2018
Our daughter Melusine turns 3 months tomorrow. Every day has been a day of happiness for us, her parents. We are so grateful to the agency, we always felt we were treated as someone special, both by Amy online and at the agency office. We can recommend the pediatricians at the Children´s Hospital in Batumi, we were so well taken care of. We hope other parents will be as happy as we have been. Thank you!
22-Jul-2018
14 more reviews
Contact Clinic
SELECT A TREATMENT. GET A FREE QUOTE.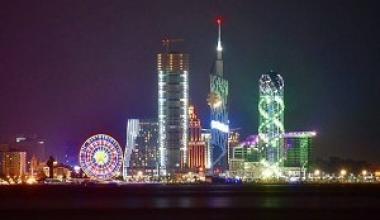 Georgia Travel Tips
Language: Georgian
Currency: Lari
Climate: Average Temp Summer 75 F (24 °C) Winter 5 F (41 °C)
Capital: Tbilisi
Major Airport(s): Tbilisi International Airport
Electricity: 220V 50Hz (European Plug)
Time Zone: UTC +4
What to See
Batumi is filled with places to explore. Make your way to the beach and take a stroll on the famed Batumi Seaside Boulevard. Here you will find cafes and restaurants and a unique venue for outdoor activities. Take time to visit the parks, which are located in or near Batumi, such as the Botanical Garden and Mtirala's National Park.
What to Savor
Batumi offers you many restaurants, cafes and fast-food chains for those who are interested in tasting Adjarian and Georgian food. Georgian dishes — as well as Chinese, Mexican, Italian, Turkish, Slavic, and Armenia can be all be found all around Batumi.
Where to Stay
Plan a beach getaway to Batumi — with the inviting Black Sea beaches and the thriving city center right at your fingertips. Many Batumi hotels offer modern furnishings and sweeping views of the Black Sea.
Book a hotel in Batumi, Georgia