At the leading fertility clinic in Jordan, Dr. Wafa Akhdar's IVF Clinic, we are an international destination to treat male and female infertility. Our IVF clinic in Amman provides an extensive array of fertility treatment options ranging from intrauterine insemination (IUI), in vitro fertilization (IVF) to advanced laboratory techniques and technology such as introcytoplasmic sperm injection (ICSI) and preimplantation genetic diagnosis (PGD).
Popular treatments
10 more treatments
Consultations available in:
English, Arabic
Additional Services
Airport Transfers, Local Accommodation Assistance, Translator Services
Patient Reviews
كل الشكر والتقدير للدكتوره وفاء الجعبري على هاذا المجهود الرائع بفضل الله ثم الدكتوره تكللت عملية الزراعه بالنجاح ونسئل الله ان يتمم على خير
08-Aug-2019
تجربة ممتازة انا زرت عياده د وفاء وكان عندي مشاكل في الانجاب وصارلي ٥سنوات بدون اطفال والحمد لله اجريت محاوله اطفال انابيب عند د وفاء الجعبري وربنا اك
05-Dec-2018
الدكتورة وفاء من افضل اطباء النسائية و التوليد و اطفال الانابيب في الاردن .. الحمد لله انه اكرمني بالحمل على ايدها بعد فضل رب العالمين بتهتم بمرضاها و بتابع تفاصيل الحالة و بتعطي المريض حقه
04-Dec-2018
4 more reviews
Contact Clinic
SELECT A TREATMENT. GET A FREE QUOTE.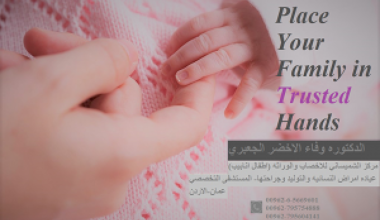 Jordan Travel Tips
Language: Arabic
Currency: Jordanian dinar (JOD)
Climate: Average Temp Summer 86 F (30 °C) Winter 55 F (13 °C)
Capital: Amman
Major Airport(s): Queen Alia International Airport
Electricity: 220V 50Hz (Round Pin & UK plugs)
Time Zone: UTC +2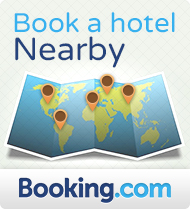 What to See
Amman is a civilized, with unexpected charm, bathed in a new spirit of dynamism. It's wordly investment is pouring in, new buildings are going up, neighbourhoods are being rejuvenated and the city is humming with cafés, galleries and commerce. Visit Amman today!
What to Savor
Whether you are looking for sweets, classic falafel, or a soothing place for an elegant dinner out, there are an abundance of great places to go to eat like a local in Amman, Jordan.
Where to Stay
Jordan provides a nice balance between the traditional and cultural aspects of the region with the modern atmosphere of the West. Amman offers many modern luxuries while still retaining its uniquely Jordanian and Middle Eastern culture.