Fertility problems affect one in six couples — causing unwarranted stress and anxiety. Many fertility issues can now be overcome with the advances of medical science. However, not all fertility clinics are the same and it is our goal at the leading fertility center in Nigeria is to help you understand the Deda IVF Hospital difference.
We will entirely educate you on the differences between individual units in terms of the range of treatments and special expertise available, how the individual unit would assist a couple and how successful the treatment is likely to be.
IVF Treatment in Abuja Nigeria
At the top IVF clinic in Abuja Nigeria, Deda Hospital, we specialize in fertility, general medicine and minimal access surgery. We are located in the welcoming Gwarimpa District in Abuja, Nigeria. Our team has created a comforting atmosphere for all our patients and partners — a serene ambience in a desired location. Our success rate are unmatched as we are bringing smiles to many homes.
Deda Hospital has a reputation for its women's health services. We are able to draw upon a wide range of clinical expertise required to suit the particular needs of individual couples. This includes access to full gynecology and andrology services....
Popular treatments
13 more treatments
Consultations available in:
English
Additional Services
Translator Services, Local Accommodation Assistance, Flight Booking Assistance
Contact Clinic
SELECT A TREATMENT. GET A FREE QUOTE.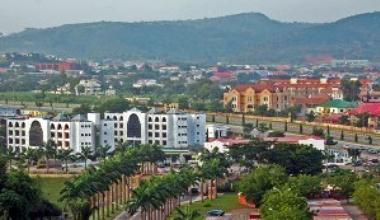 Nigeria Travel Tips
Language: English
Currency: Naira (₦) (NGN)
Climate: Seasonally damp and very humid
Capital: Lagos
Major Airport(s): Murtala Muhammed International Airport
Electricity: 240 V, 50 Hz
Time Zone: WAT (UTC+1)
What to See
Impressively located amidst ethnic and religious zones, Abuja is home to the country's Presidential Branch, National Assembly and Supreme Court. A striking art structure soars wonderfully over the city's central government district. The calming and modern architecture of the city is reflected in notable sites like the National Mosque, the National Christian Centre and the National Stadium. Abuja attractions: Abuja handicraft village, IBB International Golf and Country Club, Silverbird Galleria Millennium Park, and Gurara Waterfalls.
What to Savor
Nigerian main food palate is an appetizing mixture of rice, yam, plantain and beans. Abuja is home to the famed fufu recipes, including Cassava Fufu, Pounded Yam, Garri (Eba), Amala and Semolina. Every dining option in Abuja gives you the opportunity to taste the tantalizing culture with every bite.
Where to Stay
Close to the amazing Abuja tourist attractions, hotels in Abuja are set upon the most beautifully landscaped gardens and give way to modernized architecture. Each hotel offers a wide range of leisure facilities and stylish guest rooms to unwind and relax. Escape to Abuja.... it's waiting for you.
Book a hotel in Abuja, Nigeria