With 1,000 babies born via surrogacy per year, St. Petersburg is a top fertility tourism destination for many aspiring parents from around the world.
Verculum Life offers an excellent medical facility with leading surrogacy specialists and cutting-edge equipment — all at a fraction of the cost of other surrogacy centers!
The best part? We provide unparalleled patient experience and offer many of our respected reproductive services — all in one place!
The interdisciplinary team-based approach of Surrogacy Center Verculum covers all aspects of the surrogacy process with the ultimate goal to help you bring home a healthy baby!
With us, you'll get guidance and support at every step of the treatment process — from surrogate mother matching to working with reproductive specialists to managing the financial details.
Verculum in St. Petersburg is not only a surrogacy agency but also your partner on your path to becoming a parent.
Why choose the Verculum Surrogacy Center? At Verculum you have access to comprehensive surrogacy packages that include screening, matching, pregnancy and childbirth management, counseling services, legal representation, and assisting with departure.
We're also able to refer you to local fertility clinics, medical services, maternity hospitals or any other services you might need.
With overcome Surrogacy Clinic in Russia, you enjoy benefits like:
No waiting lists to start surrogacy in Russia
Quick and simple registration procedure
No parental rights of the surrogate mother to the child
No requirement for the child to be genetically related to at least one intended parent
No age limit for intended parents
Popular treatments include:
...
Popular treatments
24 more treatments
Consultations available in:
English, Chinese, Japanese, French, Russian, German, Arabic, Spanish
Additional Services
Airport transfers, hotel to clinic transfers, flight booking assistance, local accommodation assistance, translator services
Contact Clinic
SELECT A TREATMENT. GET A FREE QUOTE.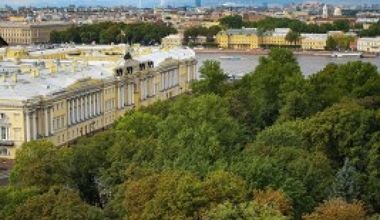 Russia Travel Tips
Language: Russian
Currency: Ruble (RUB)
Climate: Humid Continental Climate
Capital: Moscow
Major Airport(s): Domodedovo International Airport
Electricity: 220V / 50Hz (European Plug)
Time Zone: UTC +3/UTC +12
What to See
St. Petersburg has a true wealth of attractions and experiences to offer travelers — from spectacular Imperial palaces to quirky and absorbing museums, from boat trips along the city's majestic rivers and canals to walks in the footsteps of St. Petersburg's literary and artistic greats. First-time visitors should start at the Hermitage Museum — a museum so large, it is literally impossible to see it all in one day — and the beautiful Nevsky Avenue, flanked by opulent restaurants, churches, and palaces, and a great place for people watching. The Peterhof Palace Complex requires a day trip out of town, but it's a must-see and one of the highlights of a trip to St. Petersburg.
What to Savor
When people think of Russian food, usually borscht (sour beet soup) and beef stroganoff (sauteed beef in sour cream sauce) usually come to mind. While we most certainly stand by sampling these quintessential eats in Russia, there are plenty of more traditional dishes you can try.
Where to Stay
The Tsentralny District, or Central District, is, without doubt, the best area to stay in St. Petersburg. You're surrounded by the city's major sights — all within walking distance. With a smattering of cultural sights, the sophisticated district of Admiralteyskiy is another great spot to bed down if you're looking for somewhere to stay in St. Petersburg in a central location but away from the crowds. As the site of the Saint Petersburg State University, the area has a laidback student feel and a relaxed vibe. Whatever your choice, we encourage you to book rooms in advance, as this city will probably be one of the most crowded during the summer.
Book a hotel in Saint Petersburg, Russia