Our eyes do not only show us the world in true colors, but also help us see the true and hidden meanings to better fathom, respond and coexist. Hence, don't they deserve more care from us in return?
Today we want to welcome you at one of the most reputable ophthalmic clinics in Greece. Athens Eye Hospital is endowed with the most modern infrastructure and services in all over Greece and southeastern Europe. The meticulous design of our clinic was chosen with so much care in order to give our patients the comfort and well-being desired.
At Athens Eye Hospital, we pride ourselves in being dedicated to excellence in all services we deliver. Patient satisfaction and comfort are of our ultimate priorities. We strive to work assiduously to provide our patients with a better life quality by offering optimum health services that improve the patient's sight and prevent blindness.
Our Medical team is comprised of internationally accredited and highly qualified English speaking ophthalmologists, opticians, optometrists, and nurses who also collaborate closely with various academic centers and colleagues from other specialties to give you guaranteed results for a better sight.
Our Clinic consists of 7 operating theatres, 30 medical wards, high technology devices, IFA information systems, digital departmental interface and the maintenance of digital medical patient files. Our various departments and laboratories are equipped with cutting-edge technologies....
Popular treatments
5 more treatments
Consultations available in:
English, Arabic, French
Additional Services
Local Accommodation Assistance, Hotel Reservations, Flight Booking Assistance, Translator Services
Accreditations
ISO 9001: 2008, ISO 22000: 2005
Contact Clinic
SELECT A TREATMENT. GET A FREE QUOTE.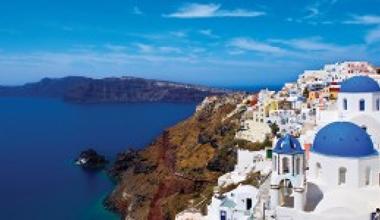 Greece Travel Tips
Language: Greek
Currency: Euro (EUR)
Climate: Mediterranean Climate
Capital: Athens
Major Airport(s): Elefthérios Venizélos International Airport, Nikos Kazantzákis International Airport
Electricity: 220V 50Hz (European Plug)
Time Zone: UTC +2
What to See
Athens is a mosaic that gathers between the grace of the ancient ages and the splendor of modern times.If you are fascinated with historical architecture, archeological museums and want to live a bygone epoch, then you've come to the right city.Try to visit Delphi, both an archeological site and one of the most popular destinations in Greece. Delphi is a Sanctuary located in the Valley of Phocis, and it had a very important religious and political significance. In fact, it was considered as the Core of the World. Athens is also teeming with shops, nightclubs and bars. Do not miss the antique shops located at the tourist areas of Plaka. Why not stop by and buy some souvenirs and old books?
What to Savor
Greece is well famed for its flavored and delectable plates essenced from fresh and healthy telluric ingredients. A typical Greek meal should be accompanied by local olives either cured or uncured. Olive oil is considered as the elixir of Greece, and almost every plate is prepared with it. Among the dishes that cannot be missed: Tramasalata, Dolmades, Moussaka,Grilled meat, Feta and Cheeses among other plates.
Where to Stay
A myriad of accommodation choices ranging from comfort suites and five star hotels to cheap hostels are at the disposal of every tourist coming to Athens.Comfort Inn and Suites is a sumptuous choice for those seeking deluxe services. Apart from the spacious and comfortable rooms it has, this kid and pet friendly hotel also offers a fitness center and a business center.
Evripides Hotel is situated at the Core of the Greek Capital to offer you the most beautiful sites in the city. It overlooks the Acropolis and is at a walking distance from the tourist areas of Plaka.
Book a hotel in Athens, Greece