SPECIAL: Special Packages Valid Through 9/1/17
Abdominal - 1500€ Thighs - 900€ Flanks - 900€ Back - 1500€ Arms - 900€ Knees - 850€ Breast enlargement - from 2400€ (with implants)
Leading Private Hospital in Lithuania
Our Mission
We, a team of the best doctors and professionals, diagnose, treat and attentively care for patients' health with the aim to create a healthier future for everyone. Having been accredited by the JCI we provide the highest quality of medical services while keeping the prices affordable.
Kardiolita Hospital is the leading private general hospital in Vilnius, Lithuania. Established in 1998, the hospital provides a full range of medical services – from comprehensive diagnostics to various surgical treatments within many medical areas. Our hospital is comprised of 3 modern operating rooms, a 24-hour intensive care unit, English-speaking staff, and accommodation for accompanying guests. We help arrange tours and leisure activities, patient transfers, as well as provide contemporary and convenient wards.
Our premier hospital employs over 250 highly qualified Lithuanian doctors with extensive international experience and treatment performance of more than 45 medical areas. With a firm grasp on the medical tourism world, Kardiolita continues its long-term experience in treating international patients.
Kardiolita is the first medical institution in the Baltic states and Eastern Europe to have received an international accreditation certificate from Joint Commission International....
Popular treatments
22 more treatments
Consultations available in:
Lithuanian, English, Russian, German
Additional Services
Airport Transfers, Flight Booking Assistance, Local Accommodation Assistance, Local Tours, Nutrition Counseling, Recuperation Services, Hotel to Clinic Transfers
Accreditations
JCI, Standarts ISO 20000-1, ISO 27001, SA 8000, Treatment Abroad Code of Practice for Medical Tourism.
Patient Reviews
I would like to sincerely thank the surgeons for the surgery, and most importantly, for the result - my son's health. This might sound trivial, but because of the professor, and his team, my son is able to play football today. Thank you! I would also like to thank all the staff for the warm, homey atmosphere, dedicated care and comfort. A year has passed, and we have missed you. Also a big thanks to our sponsors.
08-Aug-2017
I am a doctor at a big multi-profile hospital. When my husband started having serious problems with blood vessels, we decided to seek the help of specialists with extended experience in invasive and non-invasive surgeries. We chose Kardiolita because of the best price and quality ratio. Today, with our health problems behind us, we can say that we have made the right choice, and our expectations were exceeded greatly. Personal contact between the patient and the doctors, unfortunately, is rare in most world clinics. We are extremely thankful to the managers and the staff of the clinic for giving us an excellent living environment, food and medical services. Special thanks to all doctors - for their world-class professionalism. Trust me, the high quality medical services we received would not have been possible even at my colleagues, even though they would have been doing their best. With serious health problems, I highly recommend to go to Kardiolita. We are truly thankful to all the people there.
02-Aug-2017
There are different ways of expressing opinion about hospital "Kardiolita". You may speak pathetically - just listen: constellation "Kardiolita" is formed of the megastars – professors, doctors alongside with the less bright but a warm light spreading smaller stars – nurses, hospital attendants, cooks and chauffeurs. Just one star missing and the constellation would never be the same. You may speak in a simple way. Why I recommend choosing this hospital for all the concerned? They know how to save your time. All the preoperative tests took half a day and were started within one hour after I have crossed the doorstep. They treat patients as partners: the treating doctor, an operating surgeon – professor and anesthesiologist – all of them take the time to explain what things will be done to me. They inspired my confidence and I did not experience any anxiety before surgery. They care not only for your medical condition but for your comfort as well. Attentive and caring nurses do not leave you alone for a minute - even if they do not perform any medical procedures for you – they constantly offer their services and help to ease your condition. Nurses are so glad to see your every progress during recovery period! The wards are air conditioned, fully furnished with TV, fridge, comfortable transformable bed and are dedicated to providing total home comfort for patients. Here you can find lots of things to help you from feeling lonely: phone for international calls at every ward, library, Internet. Finally, they serve absolutely delicious meals here. I was set on my feet and asked to start walking the second day after hip joint replacement surgery. A week later I was able to walk without a walking-stick. I think it became possible thanks to advanced technologies used in hospital, skillful fingers of the doctors and tender hearts of the nurses. If you're considering joint replacement surgery and searching for the right hospital – do not hesitate, come to Vilnius, choose hospital "Kardiolita". I am ready to answer any questions my companions for illness may have. Please write me on [email protected] Valeria Goronkova, a journalist from Ekaterinburg.
23-Jul-2017
2 more reviews
Contact Clinic
SELECT A TREATMENT. GET A FREE QUOTE.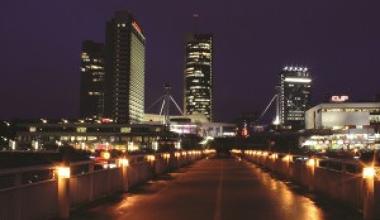 Lithuania Travel Tips
Language: Lithuanian
Currency: EURO
Climate: Maritime
Capital: Vilnius
Major Airport(s): KUN, VNO
Electricity: 220V - 240V
Time Zone: UTC+02:00
What to See
Kardiolita offers interesting sight-seeing tours in Vilnius and its surroundings to arriving patients and accompanying persons. Vilnius is the capital of Lithuania. Vilnius is one of the oldest cities in the Baltics. The first known written record of Vilnius as the Lithuanian capital is known from Gediminas' letters in 1323. The name of the city originated from the Vilnia River. Charming Vilnius Old Town is one of the largest and well-preserved historic town centres in Eastern Europe. The buildings in the old town were built over several centuries, creating a blend of many different architectural styles. Although Vilnius is known as a Baroque city, there are examples of Gothic (e.g. St. Anne's Church), Renaissance, and other styles.
What to Savor
As the vibrant and charming capital of Lithuania, Vilnius offers a variety of restaurants for every budget — from hearty Lithuanian meals to French haute cuisine, Spanish tapas, and regional classics with modern twists.
Where to Stay
Enjoy Vilnius and its 5-Star luxury accomodations in the heart of the romantic old town — in the UNESCO listed Cathedral Square. Every elegant and modern hotel hosts marble bathrooms, lavish suites, spa options, and first class treatment. Find great savings online.
Book a hotel in Vilnius, Lithuania