VIEW OUR PHOTO GALLERY for 2019 PLASTIC SURGERY PROMOTIONS
(Like what you see? Fill out Contact Form or Get Free Quote to Learn More about these Amazing Promotions)
The most advanced plastic surgery center in Bangkok, Bella Mode Clinic, is located in the Wattana District. Bella Mode is the first overseas branch of Korea's premier Grand Plastic Surgery Hospital — offering affordable aesthetic and plastic surgery services to local and international clientele.
Leading Plastic Surgery Services in Bangkok
Using advanced medical techniques and the expertise of its surgeons, Bella Mode patients boast over the the prestige Korean plastic surgery results that Bella Mode delivers every day. Bella Mode is taking plastic surgery services in Thailand to the next level. We offer a wide-range of treatments for the face and body, including:
Breast reduction
Breast lift
Liposuction
Fat contouring
Fat grafting
Nose surgery
Facial contouring
...
Popular treatments
26 more treatments
Consultations available in:
English, Arabic
Additional Services
Airport Transfers, Flight Booking Assistance, Local Accommodation Assistance, Hotel to Clinic Transfers, Translator Services
Patient Reviews
العيادة ممتازة جدا وتعاملهم جيد والدكتور وايد ممتاز وشاطر وطيب والمترجمة زهرة حبوبة وحنونة كثير وذات اخلاق راقية اهتمت بي من البداية الى النهاية شكرا لعيادة كيتوب The clinic great and their deal is very good The doctor is perfect,smart and does a good job plus he is very nice. The translator zahra is very kind with superior ethics she took care of me from the start to the end. Thank you so much ktop clinic.
22-Nov-2018
"The best decisions I've made and if given the chance. I'd do it all again" KTOP Clinic Discovering the Fountain of Youth and Beauty People expect that their physical appearance will change as they get older. However, I must say that I was not prepared to let go of my youthful look and I was determined to fight the signs of aging especially on my face. When I turned 40, I noticed the change in my facial skin texture as well as its form. It looks uneven – like it's missing some tissue masses in particular spots. Aside from that, I was bothered by my eyebrows. These are the frames of my face so I know how important it is to perfect them. However, no matter what I do, I cannot seem to get a perfect match of eyebrows. VIP Treatment for all. With that, I started doing some research as to how to solve such facial issues. When I saw rave reviews about KTOP Clinic, I decided to line them for a consultation. While some people believe in love at first sight, I experienced love at first step when I got to the clinic. I got the sincerest smiles, the friendliest words of welcome and the VIP treatment that everybody who goes to the clinic seems to get. The front desk even called a taxi for me, walked me outside and waited with me until I was safely seated. I cannot deny that I was impressed. I know right then and there that I am at the right place. What I did not know then was that I will continue to be impressed with more than just the looks of the clinic and the friendliness of professionals in the clinic. On my consultation, the doctors listened intently to what I say. They recommended Subbrow Lift to solve my eyebrows imperfection as well as Full Face Fat Transfer to fill and even out my facial tissues. The doctors explained everything clearly. They walked me through the process, explained the benefits, why they think that such services are perfect for my needs and patiently answered my questions. Lift is Right - Subbrow Lift by Dr. Pannawat Patthamawongjariya With any medical procedure, even cosmetic ones, I always expect that I will feel extreme pain. However, Dr. Pannawat pleasantly proved me wrong as I did not feel much pain, at least not as I expected. The doctor seemed to work on my eye lids with his hands patiently and expertly. He keeps encouraging me and keeping my eyes on the prize. I also expected to see some scars but thankfully, they were invisible, buried beneath my eyebrows. Face it - Full Face Fat Transfer by Dr. Nakin Panichnok What I love as much as having a perfect face is Dr. Nakin Panichnok is someone who clearly knows all about looking good as he is really attractive himself. Furthermore, aside from his good looks, he has a high and tasteful sense of humor. I feel that he cares for his patients as he comforted me and made me feel great. He is an expert in his field – knowledgeable, skilled and generous with information and his magical hands. He was even the last person to leave the Operating Room. I must say, I got better results than what I originally expected - a symmetrically beautiful face and fifteen years off my age. Throughout my career as a Psychologist, I understand that client's confidentiality is highly regarded and KTOP delivered that in their most respectful way. I could not recommend enough, KTOP Clinic is one of the best decisions I've made and if given the chance, I'd do it all again.
22-Nov-2018
I Did abdominal and sides liposuction (traditional, not vaser) and fat transfer (to lower eye area) surgery here. Was taken good care of from the first meeting, even without a scheduled appointment. Instant constructive responses in LINE for any questions I had. The staff speaks perfect English so communication won't be a problem. The surgery and followup after has been great too. As for the results it's only been a week. But happy with them so far. Might update later when fully recovered. Pricing was a little higher then some of the other international clinics I did enquires with. That's something to keep in mind. However I am still convinced that this clinic was the right choice. Note that I don't have any previous experiences to compare with.
22-Nov-2018
70 more reviews
Contact Clinic
SELECT A TREATMENT. GET A FREE QUOTE.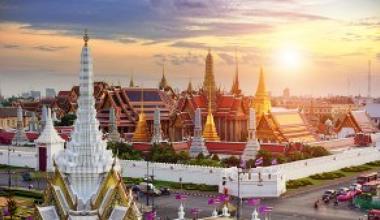 Thailand Travel Tips
Language: Thai
Currency: Thai baht (THB)
Climate: Average Daily Temp 85 F (31°C)
Capital: Bangkok
Major Airport(s): Suvarnabhumi Airport
Electricity: 220V 50Hz (US or European plug)
Time Zone: UTC +7
What to See
Bangkok is a fascinating and chaotic, yet amazing place to visit. It is filled with brimming lights, dazzling thrills, gracious people, and modern culture. Must See? Visit the temple that hosts the impressive five and a half tons gold Buddha, the famous Wat Traimit. Take in the memorable surroundings. Be sure to get a panoramic view from the Golden Mount.
What to Savor
Head to Chinatown's fresh market, a food haven for all. Day or night, it's packed with market stalls, divine restaurants, and amazing view of the Chinese temples. Street food is a quintessential part of the Bangkok experience. Don't leave without experiencing a 'kaao laad kaeng' (curry on rice) food stall.
Where to Stay
Bangkok hotels offer you the gift of lovely interior décorated spaces, top-notch service, and a reputation that takes years of consistently delivering excellence to obtain. Favorite: Located on a leafy street close to the American Embassy, Oriental Residence is the perfect place to stay if you want a peaceful and refined vacation close to both the shopping haven of Siam and Silom business district.
Book a hotel in Bangkok, Thailand