Abashed because of the sagging skin and fat? Bereft of wearing your favorite dresses because of your size? You feel you cannot help controlling yourself in front of all the unhealthy food, and feel depressed as if trapped in a labyrinth? You want to escape from such nightmarish life, yet you do not know the initial steps to take?
At Rashaqa Clinic in Alkhobar, we take you by the hand and lead you through all the steps to achieve your dream for a healthy and awesome body. Our skilled weight loss team in Alkhobar strives to create an amiable and comfortable atmosphere for you to feel unburdened and at ease. Our compassionate medical staff of highly distinguished experts takes your satisfaction at heart and deploys cutting-edge technologies in the field of weight loss for you to be in shape and accomplish your goals with confidence enough to conquer the world.
Obesity has become among the cardinal reasons leading to heart diseases, cancer, diabetes, severe back pain, varicose veins, breathing difficulties, and even death. At the leading weight loss surgery center in Saudi Arabia, we are fully aware of the dangers resulting from maintaining an unhealthy lifestyle, and are able to provide a plethora of surgical and non-surgical methods for a healthier and more alluring silhouette.
Surgical and Non-surgical Weight Loss Treatment in Alkhobar
Sleeve Gastrectomy: among the most common procedures for weight loss is the sleeve Gastrectomy. It consists of removing 75 percent of the stomach. Such technique helps diminishing the level of Hunger hormone produced.
Gastric Bypass: a small pouch is made to reduce the absorption....
Popular treatments
Consultations available in:
English, Arabic
Additional Services
Airport Transfers, Translator Services, Hotel Reservations, Local Accommodation Assistance
Patient Reviews
اشكر الدكتوره بسمه على اجراء عملية التكميم التي تكللت بالنجاح و لله الحمد بدون اي مضاعفات تذكر، ووصلت إلي الوزن المثالي بعد سنه و أصبحت ٥٥ كيلو. الحمدلله العمليه غيرت حياتي بالكامل للافضل. انا مقيمه في امريكا و لسمعة الدكتوره الطيبه تواصلت معاها وتسب و فعلا بديت بعمل التحاليل بامريكا ونزلت السعوديه لعمل العمليه، اجمل شي احساس الثقه و السعاده لما ينزل الوزن . كانت تجربه رائعه و معامله جميله و راقيه من الدكتوره بسمه الى السكرتيره الرائعه رنا الى كامل الطاقم الطبي المساعد بما فيهم الممرضات الحبيبات .
28-Jul-2017
كنت اعاني من لخبطه في الدوره الشهريه وبعدين توقفت ولما رحت اعالجها قالي الطبيب يمكن بسبب السمنه لان وزني كان 140 كيلو و بعد سنه من العمليه أصبحت 70 كيلو واقترح لي العمليه وبعد ماسالت استقريت على دكتوره بسمه .. الدكتوره جدا مريحه وتفهمك كل الخطوات اللي بتصير وتعلمك بالتفصيل وتشوف العمليه اللي تناسبك سواء تكميم او تحوير او بالون. انا سويت التكميم مع اني كنت ابي تحوير بس هي شافت ان التكميم افضل لي .. في اجراءت نسويها قبل العمليه وفحوصات وتعطيك كل التعليمات قبل العمليه عشان تتجهزون كويس.. بعد العمليه كانوا الممرضات لطيفين في تعاملهم، جلست مايقارب 3 ايام بعد العمليه كانت الدكتوره بسمه تجيني كل يوم او الدكتور الرزدنسي .. وبعدها تفحص على المعده اذا كان في تسريب او لا وهالشي مره حلو .. كثير مستشفيات مايشيكون .. بعدين بكون لك زياره لدكتوره في العياده بعد اسبوعين اتوقع .. وبعد كل 3 شهور بيكون لك زياره . تتابع فيها الدكتوره كم نزل من وزنك وتشيك معك على الفيتامينات اذا كانت ناقصه وتتحاور معك عن الغذاء اللي تمشين عليه وتعطيك نصائح. مره كانت تجربتي حلوه وحبيت تعامل الدكتوره والطاقم والسكرتاريه كانت تذكرني بمواعيدي وتغيرها لي لو ماناسبني الوقت.. مره شكرا لعياده دكتوره بسمه
28-Jul-2017
انا كنت اعاني من سمنة مفرطة وحاولت اكثر من محاولة لانزال الوزن كنت اسوي رجيم وامارس الرياضة واضعف ولكن المحافظة على الوزن صعب كان يرجع وزني وزيادة شكلي كان يحرجني ويتعبني كان وزني 128 بعدها قررت اسوي العمليه وكنت ابحث عن دكتور وقررت اسويها عند الدكتورة بسمة فلاتة توصلت مع منسقة المواعيد وكانت متعاونه واسلوبها مريح في التعامل والدكتورة والمستشفي كل شي كان تمام وماكان في اي تقصير والدكتورة بعد وقبل العملية اقدر اكلمها في اي وقت بالوتسب اذا عندي اي سؤال والحين كملت سنة من العملية ونزلت من وزني 51 كليو وانا مرتاحة وفرحانه اني وصلت لحلمي
28-Jul-2017
0 more reviews
Contact Clinic
SELECT A TREATMENT. GET A FREE QUOTE.
اشكر الدكتوره بسمه على اجراء عملية التكميم التي تكللت بالنجاح و لله الحمد بدون اي مضاعفات تذكر، ووصلت إلي الوزن المثالي بعد سنه و أصبحت ٥٥ كيلو. الحمدلله العمليه غيرت حياتي بالكامل للافضل. انا مقيمه في امريكا و لسمعة الدكتوره الطيبه تواصلت معاها وتسب و فعلا بديت بعمل التحاليل بامريكا ونزلت السعوديه لعمل العمليه، اجمل شي احساس الثقه و السعاده لما ينزل الوزن . كانت تجربه رائعه و معامله جميله و راقيه من الدكتوره بسمه الى السكرتيره الرائعه رنا الى كامل الطاقم الطبي المساعد بما فيهم الممرضات الحبيبات .
28-Jul-2017
كنت اعاني من لخبطه في الدوره الشهريه وبعدين توقفت ولما رحت اعالجها قالي الطبيب يمكن بسبب السمنه لان وزني كان 140 كيلو و بعد سنه من العمليه أصبحت 70 كيلو واقترح لي العمليه وبعد ماسالت استقريت على دكتوره بسمه .. الدكتوره جدا مريحه وتفهمك كل الخطوات اللي بتصير وتعلمك بالتفصيل وتشوف العمليه اللي تناسبك سواء تكميم او تحوير او بالون. انا سويت التكميم مع اني كنت ابي تحوير بس هي شافت ان التكميم افضل لي .. في اجراءت نسويها قبل العمليه وفحوصات وتعطيك كل التعليمات قبل العمليه عشان تتجهزون كويس.. بعد العمليه كانوا الممرضات لطيفين في تعاملهم، جلست مايقارب 3 ايام بعد العمليه كانت الدكتوره بسمه تجيني كل يوم او الدكتور الرزدنسي .. وبعدها تفحص على المعده اذا كان في تسريب او لا وهالشي مره حلو .. كثير مستشفيات مايشيكون .. بعدين بكون لك زياره لدكتوره في العياده بعد اسبوعين اتوقع .. وبعد كل 3 شهور بيكون لك زياره . تتابع فيها الدكتوره كم نزل من وزنك وتشيك معك على الفيتامينات اذا كانت ناقصه وتتحاور معك عن الغذاء اللي تمشين عليه وتعطيك نصائح. مره كانت تجربتي حلوه وحبيت تعامل الدكتوره والطاقم والسكرتاريه كانت تذكرني بمواعيدي وتغيرها لي لو ماناسبني الوقت.. مره شكرا لعياده دكتوره بسمه
28-Jul-2017
انا كنت اعاني من سمنة مفرطة وحاولت اكثر من محاولة لانزال الوزن كنت اسوي رجيم وامارس الرياضة واضعف ولكن المحافظة على الوزن صعب كان يرجع وزني وزيادة شكلي كان يحرجني ويتعبني كان وزني 128 بعدها قررت اسوي العمليه وكنت ابحث عن دكتور وقررت اسويها عند الدكتورة بسمة فلاتة توصلت مع منسقة المواعيد وكانت متعاونه واسلوبها مريح في التعامل والدكتورة والمستشفي كل شي كان تمام وماكان في اي تقصير والدكتورة بعد وقبل العملية اقدر اكلمها في اي وقت بالوتسب اذا عندي اي سؤال والحين كملت سنة من العملية ونزلت من وزني 51 كليو وانا مرتاحة وفرحانه اني وصلت لحلمي
28-Jul-2017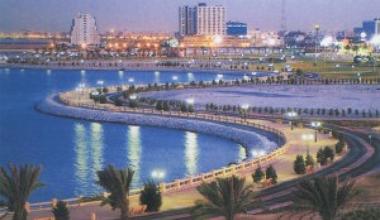 Saudi Arabia Travel Tips
Language: Arabic
Currency: Saudi Riyal (SAR)
Climate: Desert
Capital: Riyadh
Major Airport(s): King Fahd International Airport (KFIA)
Electricity: 127V 60Hz
Time Zone: UTC+3
What to See
Alkhobar is a ravishing city situated at the oriental province of Saudi Arabia. It is well famed for its intriguing business centers, its breathtaking beaches, crystal-clear waters, its magnificent parks, and unearthly beauty of fountains. Among its top touristic attractions: Kfupm Beach, Khobar Sea Front, Abdulaziz Recreation Center, Discovery Statue, Mall of Dhahran...
What to Savor
The City is abundant with the best of restaurants that serve both local and international dishes that shall tempt your taste buds. When you are in Alkhobar, you can never escape the street vendors that exhibit the most delectable local sweets as well as mouthwatering fast-food. Among sumptuous restaurants that we recommend: Pizzarific, Fushi Restaurant, French Bakery, Soul Kitchen, Fusion Seafood & Sushi, Royal Gulf Chinese Restaurant...
Where to Stay
A myriad of deluxe hotels are available in Alkhobar for a memorable vacation: Mövenpick Hotel Al Khobar, Mercure Al Khobar Hotel, Sofitel Al Khobar The Corniche, Intercontinental Hotel Al Khobar, Ramada Gulf, Le Méridien Al Khobar...
Book a hotel in Alkhobar , Saudi Arabia