Fertility Argentina prides itself on being the first fertility clinic in Argentina that performed an IVF cycle in 1984. Nowadays, more than 1,200 IVF cycles are performed every year. In 1993, the Egg donor program was started. It quickly became one of the most popular programs in Latin America and every year more than 330 women receive donated oocytes, and about 20% of them are people coming from abroad. Fertility Argentina is ISO 9001 certified and offers patients a level of treatment on par with the US and Europe. All members of staff follow the key principles of the assisted conception taskforce (ACT). Egg donation program is now one of the most popular assisted reproductive treatments in Latin America and every year more than 330 women receive donated oocytes, and about 20 per cent of them are medical tourists seeking affordable fertility treatment in Argentina. The aim of the egg donor program is to allow hundreds of women every year to get pregnant. Egg donation is an alternative that offers good pregnancy rates with lower chances of genetic disorders (lower miscarriage rate and lower chromosomal abnormalities). The Egg donor program is one of the most popular; not only in Argentina, but also in Latin America with patients coming from the USA, Canada and also from Uruguay, Chile, Sweden, Netherlands, United Kingdom, Spain, Mexico, Brazil, Peru and some other countries of Europe.
...
Popular treatments
10 more treatments
Consultations available in:
English, Spanish
Additional Services
Airport Transfers, Flight Booking Assistance, Hotel Reservations, Hotel to Clinic Transfers, Local Accommodation Assistance, Local Tours, Translator Services
Accreditations
ISO 9001
Patient Reviews
My husband and I made the trip to Argentina after two failed IVF cycles in our home city of Miami, Florida. This was a big decision, yet an easy one for us once we experienced the simplicity of working with Dr. Demian Glujovsky and Fertility Argentina. Communication prior to our travel down was over email. Questions were answered promptly and directly...in English as well so I had no problems communicating. From the very beginning we felt like Dr. Demian was professional and easy to work with. Upon arriving in Argentina we found the office to be equally as professional yet extremely caring and sensitive to what we were going through. This was a much different experience from the ones we had in Miami. We felt like people. Like a couple trying to have a baby. Not like a customer. This made it so much more enjoyable and exciting for us again. We were in Argentina a little over a week and today expecting a healthy baby boy!! We can not say enough positive things about Dr. Demian Glujovsky and Fertility Argentina. We look forward to our next trip down to work on a sibling for our son!
30-Oct-2014
We went for 1st EGG donation procedure September of 2011. We did not get pregnant. Excellent communication with the Dr G.
14-Jun-2012
We did two cycles of IVF, and one cycle with donor egg. We did not get pregnant, but we felt we received excellent care and would not hesitate to recommend Dr. Glujovksy. He is very accessible by email and has a good understanding of the English language. The facilities were top of the line. We rented an apartment for the time we were there and it was very nice to not have to go out to eat all our meals. There were also inexpensive tours of the city and a great daylong trip out to a ranch we would go on again.
01-Feb-2012
1 more reviews
Contact Clinic
SELECT A TREATMENT. GET A FREE QUOTE.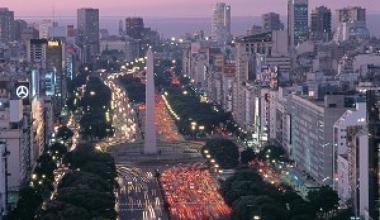 Argentina Travel Tips
Language: Spanish
Currency: Argentina Peso (ARS)
Climate: Summer 76 F (23°C), Winter 46 F (8°C)
Capital: Buenos Aires
Major Airport(s): Ezeiza Ministro Pistarini (EZE)
Electricity: 220V, 50Hz
Time Zone: GMT -3
What to See
Buenos Aires has an intense cultural life where tango, long coffee breaks and football (soccer) are essential elements to daily life. Its countless museums, exposition and conference centers, art galleries, cinemas and theaters host national and international events of the highest quality. Its nightlife is extensive and typically lasts until the early hours of the morning. Discos, restaurants, "cafeterías" and many other attractions abound. Visitors to the city will be thrilled with the endless list of possibilities.
What to Savor
Martin Lukesch is at the helm of this exquisite culinary affair creating unique Argentine dishes, like rabbit confit with carrot and citrus salad. Make sure to pick the right wine to perfectly pair with your course; and feel free to consult the owner who hosts wine tasting class once a week.
Where to Stay
Dazzling French architect Philippe Starch created a modern, luxury den in the middle of Buenos Aires offering dramatic views of the city and the river. Faena Hotel + Universe is truly a modern-day Shangri-La, sporting plush rooms, suites, marble bathroom floors, velvet couches, leather armchairs, flat-screen TVs and surround-sound stereos.
Book a hotel in Buenos Aires, Argentina