Located at the crossroads of Western Asia and Eastern Europe, AtlasCARE IVF in Georgia is renowned for its innovation, affordability and unwavering support — every step of the treatment process. Providing an extensive range of fertility treatment and surrogacy options, the top Surrogacy & IVF clinic in Tbilisi strives to provide all-inclusive and professional care to all patients.
"Our leading measure of success is the birth of healthy babies." — Dr. Maria Mikadze
Inspired by your medical and personal needs, the AtlasCARE IVF team tailors personalized treatment plans to give you the best chance of success. While there are many options when choosing a fertility clinic, AtlasCARE IVF specialists offer you more than 15 years of collective experience in the field of infertility. Lead fertility specialist, Dr. Maria Mikadze, works closely with her team to ensure that the latest clinical protocols, techniques, and procedures are carried out with expertise, support, and compassion.
Our loving surrogates are ready to create a unique connection with you and help you reach your goal of building a family. Our egg donors are remarkable, accomplished young women who are ready to share the gift of parenthood with you.
Why Choose AtlasCARE in Georgia?
AtlasCARE IVF has assisted couples from around the world in their pursuit to build a family since 2007. As the leading IVF center in Georgia, we are proud to offer high success rates, reasonable costs, and smooth communication in English, French and Arabic....
Popular treatments
14 more treatments
Consultations available in:
Georgian, English
Additional Services
Airport Transfers, Flight Booking Assistance, Hotel to Clinic Transfers, Local Accommodation Assistance, Translator Services
Patient Reviews
We have been very lucky to choose atlasCARE from the begnning. CARE is what atlasCARE holds for. From the dinner we had together with doctor and the team, to every email we exchanged through the whole process, atlasCARE has been truly caring and sincere. We would like to particularly express our deep thanks to Amy. Whenever we need you, you are always there, answering quesions, offfering advice and support. Dr Everen is the best, We love atlasCARE, We love Georgia, for sure we will come back to visit this beautiful country:)
19-Feb-2019
Hey Evren, My wife and I are now in Tbilisi since last Saturday. Kids are keeping us busy here daily. : ) Will do the DNA test on this coming Wednesday. Hopefully everything will go smoothly. Want to personally thank you for your help in all ways, especially Amy, Tamila, you, and all supporting team from Atlas Care.
13-Sep-2018
Our daughter Melusine turns 3 months tomorrow. Every day has been a day of happiness for us, her parents. We are so grateful to the agency, we always felt we were treated as someone special, both by Amy online and at the agency office. We can recommend the pediatricians at the Children´s Hospital in Batumi, we were so well taken care of. We hope other parents will be as happy as we have been. Thank you!
22-Jul-2018
14 more reviews
Contact Clinic
SELECT A TREATMENT. GET A FREE QUOTE.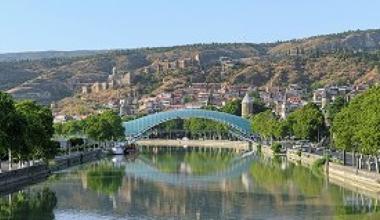 Georgia Travel Tips
Language: Georgian
Currency: Lari
Climate: Average Temp Summer 75 F (24 °C) Winter 5 F (41 °C)
Capital: Tbilisi
Major Airport(s): Tbilisi International Airport
Electricity: 220V 50Hz (European Plug)
Time Zone: UTC +4
What to See
Tbilisi, Georgia offers intended parents a convenient location along the quaint Kura River of the southeastern edge Europe — a place to savor the city's luxurious shops, appetizing restaurants and impressive art. You won't forget the historic charm and incredible city center of Tbilisi. The red-tiled roofs, narrow streets, and ancient buildings will steal your heart. Places to Explore Freedom Square Georgian National Museum Sioni Cathedral Kashveti Church Narikala Fortress
What to Savor
Tbilisi has evolved into authentic mix of ancient, medieval, classic and European influence. Its dining scene is similarly eclectic, with upscale venues serving organic wines, vintage cafés and traditional Georgian dining establishments making waves among locals, expats and tourists.
Where to Stay
Welcome to Tbilisi — situated in the most ancient and beautiful part of Georgia. Accomodations in Tbilisi offer amazing panorama of old districts of Tbilisi, from here you can watch old districts of Narikala and picturesque places of Saint Mountain Mtatsminda. Guests can explore the city, visit hot sulphur waters and Rike Park, Chardin and Rustaveli streets, museums and theatres.
Book a hotel in Tbilisi, Georgia