FIV Center Madrid provides state-of-the-art, comprehensive fertility treatments and reproductive solutions to patients struggling with infertility. The clinic offers the most experienced fertility doctors in Spain with both basic and advanced assisted reproductive technology for female and male couples.
Fertility treatments range from IUI, IVF fertilization, IUI, assisted hatching, and embryo freezing. The center is recognised as an accredited practice by the Department of Health for the Community of Madrid, the National Ministry of Health and the Spanish Society of Fertility. The clinic's advanced and equipped laboratory is also certified and accredited by the European Society of Reproduction.
Top Fertility Care in Spain
Fertility doctors at FIV Center Madrid understand that having a family is the ultimate goal of your emotional journey to getting pregnant. Therefore, the clinic assembled the best team, breakthrough laboratory and best-practice reproductive technology to help you achieve a successful pregnancy.
The clinical facilities available onsite are modern and use the latest in cutting-edge equipment. The clinic was designed to create a relaxed environment for couples as they embark on their IVF journey.
The team of fertility experts are well-trained in all aspects of IVF procedures, particularly egg donation in Madrid.
Madrid is a dynamic destination for assisted reproductive treatments and health care tourism, recognized for its advanced scientific research and affordable medical facilities on par with EU standards.
...
Popular treatments
12 more treatments
Consultations available in:
Arabic, English, French, Spanish, Italian, German
Additional Services
Translator Services
Accreditations
Department of Health for the Community of Madrid, the National Ministry of Health and the Spanish of Fertility, European Society of Reproduction
Patient Reviews
I would highly recommend Fiv Center. Their communication was excellent from start to finish, all questions were answered quickly. They were professional, kind and reassuring throughout, and all staff spoke good English. I wouldn't hesitate to return in the future.
06-Dec-2018
Thank you Dr. Caballero to have made my dream come true. You and your professional team brought the happiness to our life. It´s a baby girl! No words can describe how thankful I am.
06-Dec-2018
I wish to say thank you to Dr Caballero and his team. Naomi especially has always been so professional and helpful. We had our first treatment (egg donor) in 2015 and we are now blessed with an amazing little girl. We are currently working towards another treatment which we hope will be successful. Dr Caballero has already made the impossible, possible for us.
06-Dec-2018
10 more reviews
Contact Clinic
SELECT A TREATMENT. GET A FREE QUOTE.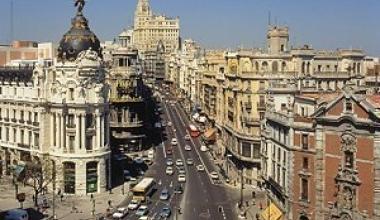 Spain Travel Tips
Language: Castilian Spanish, Catalan
Currency: Euro (EUR)
Climate: Average Temp 68 F (20°C)
Capital: Madrid
Major Airport(s): Madrid Airport, Barcelona Airport
Electricity: 230V 50Hz (European Plug)
Time Zone: UTC + 1
What to See
Madrid is a vibrant crossroads of art, culture and history; the Spanish capital has an addictive appetite for celebrating life and merrymaking around the clock. Filled with captivating contrasts, Madrid can be best described as a cosmopolitan urban hub and traditional Spanish town. Visit Palacio Real, an 18-century palace built in the 9th century perched on the terrain that used to a fortress. Inside, the palace consists of 2,800 elegant rooms that feature Salon de Gasparini, King Carols III's private apartments.
What to Savor
Tantalizing tapas await you in Madrid's bars and delightful deli's. Head from one tapas bar to the next or sip sparking Spanish wine at Plaza de Santa Ana or Plaza de Santa Barbara. Follow the lead of Anadalusian gazpacho's indulgent flavors, Valencian paella and cocido, Madrid's own lamb and vegetable stew. A must-try post-dinner drink is Anis, anise-flavor liqueur produced outside the charming village of Chinchon.
Where to Stay
AC Hotel Cuzco Madrid is conveniently located near the clinic and close to Madrid's Palacio de Congresos as well as Santiago Bernabu Stadium. The hotel offers 319 fully-refurbished rooms to provide guests with all the modern conveniences including WI-Fi Internet connections, fitness center and a 24-hour dining service at Belmecher restaurant. The reasonably priced La Posada de el Chaflán, is walking distance from the clinic and easily accessible from the airport. Our patient coordinators can give you tips to find accommodation in the city centre, along your budget. For long-stay periods, we recommend you to rent a flat at Apartamentos Alcocer 43, also at a walking distance from our clinic in Madrid.
Book a hotel in Madrid, Spain