Mediface Health Group consists of the Mediface Surgical Medical Center and the Mediface Beauty Salon. What services do we provide within our five-star health network? Mediface offers ENT (Ear, Nose, & Throat) Services, Plastic surgery, Medical Aesthetic, Hair Transplantation, Laser treatment, and Oral Health & Dentistry.
The modern surgical medical center comprises of 5 floors (just 12km to airport and 5km to Lara area 8km to Kundu area sea Side Hotels) and 8 private patient rooms.
From our initial opening in 1997 to the opening of our most recent advanced patient facilities in 2013 — patients remain our central main focus.
Five-Star Health Quality in Antalya
Our Mission — to advance patient care with given Turkish Hospitality and continue to change the course of modern medicine.
Our Vision — we anticipate taking a top spot globally as we define and deliver "Medicine of the Highest Order" and set the standard for compassion and innovation, always placing patients and their families first.
Let's take a closer look at some of the procedures we offer:
Plastic Surgery Procedures for the Body and Breasts
Buttock Lift. A buttock lift can improve sagging buttocks and remove excess thigh skin.
Breast Augmentation. Improves the size and appearance of the breasts.
Liposuction. Liposuction Improves facial and body contours by removing unwanted fat deposits.
Body Contouring. One or more procedures may be recommended to achieve your goals for a more youthful, contoured body.
Plastic Surgery Procedures for the Face and Head
Popular treatments
14 more treatments
Consultations available in:
English, Turkish
Additional Services
Local Accommodation Assistance, Flight Booking Assistance, Translator Services
Patient Reviews
It's very fantastic! All People at Mediface clinic are pleasant and professional. Kindness and respect are Wonderfull! Meltem is a very special person now she is like a member of my family! Thank you for all things!!
11-Apr-2015
I'm more than pleased with the results, and the service plus the professional staff. I've had the best Doctors and Nurses to make me feel home and secure at all times. I'm thanking you all from the bottom of my heart
03-Feb-2015
I am very happy I found this clinic and got in contact with Melmet shes wonderful. She was so positive and was always there to answer my questions very professional. She was there for me the whole time even during the operation :) The doctor was also very professional he knows what his doing. Its only gone 10 days that I had the surgery and I am already very happy with the results. I had a rhinoplasty and already My nose change alot . The staff made me feel calm and they took good care of me after the operation I loved it and I am happy I choose this hospital I looked a long time and this one was the one that I felt was the best for me .
17-Dec-2014
1 more reviews
Contact Clinic
SELECT A TREATMENT. GET A FREE QUOTE.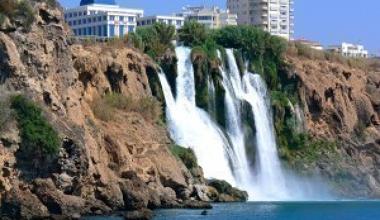 Turkey Travel Tips
Language: Turkish
Currency: Türk Lirası/Turkish Lira (TRY)
Climate: Temperate Mediterranean Climate Hot, dry summers/mild to cool, wet winters
Capital: Ankara
Major Airport(s): Atatürk International Airport, Esenboğa Airport
Electricity: 220V 50Hz (European Plug)
Time Zone: UTC +2
What to See
Located on the shores of the Mediterranean Sea, Antalya attracts millions of individuals with its gorgeous land and historical riches. The combination of the sun, deep blue sea, the mountain covered with trees will truly captivate your attention. Places to visit in Antalya — Kaleici (Old Antalya) Kaleici (Old Antalya), Clock Tower, Old Harbor, and Yivli Minare.
What to Savor
Antalya enjoys an authentic cuisine which is a delightful blend of the Arabic and Mediterranean influences. Turkish cuisine is one of the lushest tastes in the world. What can you expect on your plate? Sac kavurma (meat), Kolle (cooked by mixing different types of corn and fruit sprinkles – sugar added) and Hibes (halvah). Be sure to try these appetizers: dolma, ezme, haydari, cacik, hibes, humus, and imambayildi.
Where to Stay
The options are endless — Antalya offers many 4 and 5 star hotels with close attractions for shopping dining, and unwinding. Hotels offer superior quality and comfort with many additional amenities and facilities. Whether you are looking for an inexpensive, simple hotel and traveling on a budget or a luxurious hotel with grand amenities, you can find a great number of hotels to suit your taste.
Book a hotel in Antalya, Turkey